I'm having so much fun looking at everyone's Fourth of July projects! Now, I subscribe to all kinds of daily ezines –
Better Homes & Gardens
,
Martha
,
Betty Crocker
, etc. But their creative editors don't hold a candle to the gals in Blogland! 
PunkinSeedProductions
Kristi @ Punkin Seed Productions took block of wood & scrapbook paper and made this darling stackable. Seriously cute! It fits just about anywhere!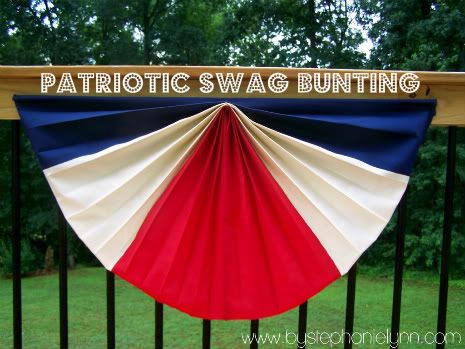 Leave it to StephanieLynn to come up with a no-sew bunting. I adore buntings, but was not ready to tackle making one – until I saw this! And she gives beautiful, step-by-step photos! Loves me a great photo tutorial.
Here's a perfect example of what can be created without crafting. Isn't this vignette stunning? Sarah @ A Simply Country Girl pulled simple items together – a rustic window frame, twig wreath, birdhouse, and more with Old Glory flowing throughout. No flag? What about using red, white & blue fabric? I think it'd work, too.

Alison @ Oopsey Daisy has done it again with these darling 'firecrackers'. And if you're thinking you don't have time for a paint project, I'm here to tell you, painting at the last minute is actually relaxing and helps you calm down. Call me crazy – you won't be the first – but if I'm having a big shindig, a little painting helps smooth my nerves.
Remember to link up all your Red, White & Blue goodies to Fab Finds for the 4th! The link opens tonight @ 9 pm PST.
Tomorrow is all about yummy treats & recipes for the 4th. Don't miss this one!
Colleen