Sure, you can use a photo editing program to make your own blog button, but why not paint one? Even if you can't draw, you can download some clip art and go from there.
I have been thinking about hosting a linky party for a while – a Passion for Paint party. It's for all things painted – spray paint, crackle paint, furniture, artwork . . . you name it! Once I decided to commit to it, I had to choose a time that would fit in my crazy schedule.
Passion for Paint party
Next I wanted to paint my own button. Yeah, I could've just done some text and a background, but it's a PAINT party! The button should be painted!


I started with watercolor paper and a pencil sketch. It might be a little hard to make out but there's a can of paint, a roller, paint brushes, spray paint, artist palette & craft paint. Did I leave anything out?


I went over the pencil sketch with Sharpies so I could see it better. I know – there's a ton of detail for a little ol' button, but that's the way I do things.
Then I grabbed my watercolor pencils.


If you haven't tried these, get some when you can. There are endless possibilities for using these. If you scrapbook, you'll really love them.


I colored in the background first.


Then, just take a damp paintbrush and smooth out the pencil strokes. It turns into watercolor paint. Awesome! And since it's watercolor, you can move it around without it drying too fast.


I did the paint can in black & grey, then the artist palette in brown.


Tons of red! Too much? Oh well, too late now!


Tightened things up a bit with my Sharpies (and a little contrast from Photoshop) and all that's left is to add some text.


I can't enlarge the button without distortion. This one is 165 x 165 pixels.
Now, how to make it a linky button? I did it once, for the 4th of July. But who can remember back that far?
I loaded the button into Photobucket – the hosting choice for most bloggers. Then came the tricky part (if you're not great at html, which I am definitely not). How to get the little box underneath that shows the html code so people can link up to the party.
After some searching, I found MusingsofaHousewife. She makes it really, really simple. There are loads of other instructions out there, but hers worked for me.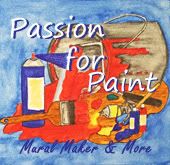 Now all I have to do is head over to Mr. Linky and set up the date. I like Linkytools rather than InLinkz. For some reason I always have problems posting my thumbnail with InLinkz. And I want to see everyone's paint projects!
I hope you'll visit Sunday, August 29th! If you know anyone who's painted something, send 'em on over!
I'm linking (of course) up to these parties today.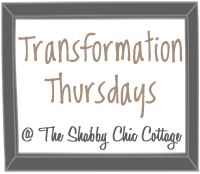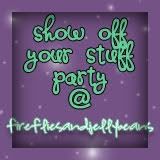 Colleen