I love this project so much! I think you will too because it's really quick, easy & cheap!
Start with a goblet. I get mine at the Dollar Store. There are different sizes of goblets, which affect how the shade will sit. So getting the shade the right size is a bit of trial & error. I do have a pattern I can email you, if you want.

I knew I wanted just the stem & base painted. This was my attempt at making a flat, straight line curve around a circle.
You certainly don't have to paint the stem. You could just tie a pretty ribbon on it. I just happened to have some glass spray paint on hand.

When I realized the shade wouldn't cover the entire bowl,  I moved the tape up.
You can make your shade cover the entire bowl if you want. It's just a matter of preference. I wanted to see the flame glow thru the red paint.
I found this little goody when I was cleaning out my shed. It's about 7 years old, but it still worked.
It turned out a bit more cranberry than true red – and I had already started on the shades. But it does blend okay.
I painted the background in a sky blue. I could've left it blank, I guess, as this is watercolor paper. Too late now!
Then paint your images. Do you have to paint? Certainly, not. You could use decorative paper or even lightweight fabric. Well, I think it'd work. I haven't tried it – only painting.
Next, I needed something for the top & bottom edges. This is where blogging is so great. I went to a Blog Frog Community, posted pics, and asked for suggestions. My solution for painter's block!
One gal suggested painting a fade on the top & bottom.
This is my secret weapon for shading. Since I never took an art class, I don't have much finesse for shading. But I load my brush with this stuff first, then dip a corner into the paint and it comes out pretty good.
You could leave it like this, but I like to scallop the edges.
Because you're cutting on a curve, it is a bit tricky. I've looked for rotary cutters with scalloped edges, but haven't found any. If you know where to find them, would you let me know?
Now you need to get these flat guys to mold around the goblet.
Moisten the back side of your lampshade. Then curl it into the position you want and clip it together.
It actually doesn't take that long to dry. Then it'll nearly hold by itself.
I used this glue. I've used all kinds. What makes it work is getting your shade to hold its shape. Otherwise, no matter what kind of glue you use, it'll pop open.
Throw in a tealight from the Dollar Store and it's done!
Linking up to these parties –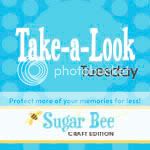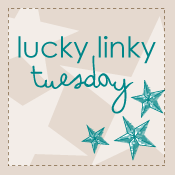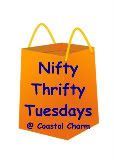 Colleen