Finished! This is the last in the series, Eat Pray Love. This is one of those projects – 'seemed like a good idea at the time' . . .
But they're done. And I will put them in my Zazzle shop on some goodies – maybe t-shirts, I'm not sure yet. Eat will definitely go on an apron. Any ideas? Let me know!
Here's the step-by-step. Once again, I took most of these pictures from the video. I promise I will post the videos of the series, but they still need to be edited.


The canvas was basecoated with Yellow Ochre & then glazed with Raw Sienna – just like Eat & Pray.
The mountains were painted with Purple Smoke, just like Pray.

The water is a combination of dark Blue & Purple Smoke.

Then I put a glaze of Raw Sienna over the mountains and the water. Even with a glaze, you can add highlighting, just by where you put the heaviest coat. By painting curves, the mountains now have detail. The water has more horizontal strokes.

For the temple, I started with a basecoat of Mudstone, then a topcoat of Light Ivory.

I wasn't thrilled with the Light Ivory, so I added a glaze of Barn Red, the same color I used on the rooftops.

The hearts were basecoated with Barn Red too. Then the palm tree trunks were basecoated with Yellow Ochre.
If you followed along on this series, you've noticed I use the same colors over and over. Partly because I want the paintings to all work together. And partly because I try and keep the number of paint colors to a minimum. That way, you don't have to invest a ton of money in paint.

For the palm fronds, I basecoated in a yellowish Green, then 'side-loaded' the brush with Yellow Ochre. Just a smidge of paint on the edge of the brush for side-loading.

This was just a quickie way to paint the palm fronds, rather than using a ton of colors and detailing. I wanted a simplistic look, rather than high detail.

Finally, I topcoated the hearts in Tomato Spice. The Barn Red was a little too dull.

Here are the three paintings all together. My favorite is still 'Eat'. But I think they each represent different aspects, just like the book/movie.
Thanks for following along with my little series. Now, back to painting Fall & Halloween!
Want to see what other crafty gals have been up to? Check out these linky parties today.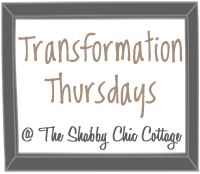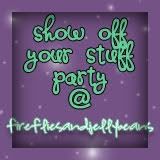 Colleen