I'm so glad you stopped by today because I'm not only sharing my faux stained glass tutorial for making this Coastal Painted Window with DecoArt, there's also a huge giveaway to enter too! But first let me show you how fun it is to create a faux stained glass window.
If you've been here before then you know I love painting glass and making faux stained glass like the Fall Leaves I made last year with DecoArt. Well, after all of the packing, moving, and unpacking I've been dying to get creative again.
The first thing I received at my new house was the delicious box of glass paints from DecoArt. Yep, even before any bills! I knew I wanted something in blues and greens to hang in my studio so something 'coastal' was perfect! All I needed was a framed piece of glass.
Of course I have a few frames from the thrift store hanging around. While I wasn't crazy about this gold frame, I did like the 16 x 20" size, perfect for filling a window with gorgeous hues of blue and green.
I started with a basic sketch, something that would have some focal elements but also have varying shades of blue. After this sketch I drew the seashell patterns closer to scale.
Then I started playing with the different paints and hues. All of these are glass paints but they have different qualities. I used the Glass Stains primarily but added a touch of Frost Gloss Enamel here and there.
For me, there's nothing better than mixing and playing with paint. Some people like puttering in the kitchen or maybe the garden. Not me. Give me some new paints and I'm in heaven.
Oh, by the way, I used an old square mirror to practice on so I could still see the translucency of each paint. Since I'm replicated stained glass, I wanted to see how much light would pass through each shade.
The frames cardboard backing was easily removed with a flathead screwdriver.
Please be careful when removing the glass as the edges are very sharp. Wear some heavy gloves, if you have them. I also add a layer of painter's tape along each edge so I don't get cut.
First I washed both sides of the glass with soapy water the dried them. After that, I cleaned the side to be painted with rubbing alcohol. This removes any oils that might be on the glass from my hands.
Any time you paint any glass, always clean it with rubbing alcohol and allow it to air dry.
While the glass was drying I made my pattern. Since the glass is 16" x 20" I had to "tile" four pieces of copy paper together and tape them, then I transferred my pattern. I traced first with pencil then went back over with a black marker.
While I'm emulating stained glass so I wanted to have "pieces" that looked like they were soldered together, I didn't want a black leading line thru my main focal elements. That's why I said to "stop the wave leading" on the inside of the shells and starfish.
Now it's time to start "leading". As with any new product, I recommend you do some practicing before you start on your glass. You might find it easier to apply it like decorator's icing or you might like dragging the tip on the glass.
I have a little video that might help with some of these techniques I use.
Before you get started leading and pouring paint, find a flat surface where your glass can sit undisturbed. There is some drying time between the stages. I did the leading one day and poured the colors the next, then allowed another day for those to dry. Of course, weather and humidity will affect the drying time too so having a dedicated table where you don't have to move the glass and risk smudging wet paint is optimal.
Liquid leading takes a while to dry so you need to plan your application. If you're right handed like me, moving from left to right works best. If you're left handed, well, you're on your own because I have no idea! But I'm guessing moving right to left would be best for lefties.
The object is to keep your forearm from dragging through any wet leading, ok?
Now, just in case you're a little over critical of your own work, I want you to see what mine looks like up close. Not perfect, mkay? But think about soldering on stained glass. It's bumpy and lumpy and not perfect either, so this works just fine.
As I said before, the leading will take some time to dry so let's do some prep work while we're waiting.
Once you start pouring paint you'll want to move fairly quickly so I take all of the colors I'll be using and remove any inner or outer seals.
Now, the glass stains come with pointed tips so they're really easy to apply and you could just pour the colors with nothing but the attached tips. But . . . I like to mix things up a bit, meaning mix colors. So I gather an assortment of 'tools' to comb, or mix, the colors together.
Toothpicks for tiny areas, the ends of paintbrushes, and palette knives for larger areas. It's so much fun to see the different effects you can create with different tools.
Okay, ready to see how to create seashells and starfish that look like stained glass? Let's go!
---
Painted Scallop Seashell on Glass
I always work in relatively small areas because I pour more than one color, spread them into all of the leading and then comb the colors. For the Scallop I poured White, then a little Brown, combed with the end of a paintbrush, then moved on to the next area.
Tip: When pouring Glass Stain(s), spread into the leading outline first and then go back and 'comb' the colors together. You don't want any gaps between color & leading.
For details on the Scallop seashell I chose to use brown 3D Opaque instead of black leading, just for fun. Then I went back with a toothpick and blended the Opaque into the white and brown glass stains.
All of the colors look fairly opaque while they are wet, some more than others. After they dry fully, the glass stains have a beautiful translucency. So while the White looks cloudy when wet, light will pass thru it when it dries.
---
Painted Starfish on Glass
I used Brown and White on the starfish, pouring the Brown first, then drizzling the White right into it. Then I spread the brown into the leading outline and came back and combed the colors together.
Purdy, huh?
---
Painted Nautilus Seashell on Glass
This guy was fun too. Just White and Brown Glass Stain, working in sections. Pour white, spread it into the leading, then dot the Brown and make a little curve with a toothpick. You'll see what it looks like dry in a minute.
---
Like I said I wanted a little green for contrast so I made these little seaweeds with Green & Brown glass stains. The Brown was added for a little dimension.
The bubbles are made with Clear and White. Drop the Clear in, then a dot of White and swirl the two with a toothpick. Easy peasy.
Here's the glass after the main elements have dried. You can't really tell how the light passes thru the colors because the 'water' background isn't poured yet. So let's do that next.
---
Layer 1 – Dark Blue Water Background
This is simply Blue with a little Clear to give the water "movement".
Just a few dots of Clear glass stain make a lot of difference. I think it looks a lot more like stained glass with the Clear.
It's subtle, but important.
---
Layer 2 – Lighter Blue Water Background
For this layer I added White to lighten the overall Blue.
---
Layer 3 – Turquoise Blue Water Background
Here's where I took a bit of a risk, but I'm glad I did. I wanted a turquoise blue and this Frost Gloss Enamel is the perfect shade. But it's not a glass stain so I wasn't absolutely sure it'd work.
Luckily, it did.
The Turquoise has a different quality than the stains but I really like it.
---
Layer 4 – Light Turquoise Water Background
So for the final water background layer I used the Turquoise again with only Clear and White, no Blue at all.
Kinda ethereal, just like water should be, right?
Here's the 'window' completely dry. I'm not sure if you can tell but even the Scallop and Nautilus shells have light passing through.
See how the water has all sorts of movement and dimension? That's just Blue, White and Clear, combed with the end of a paintbrush.
And the starfish with Brown and White.
Look how fun the Nautilus is!
This is what I love about painting with glass paint, the result is always a little unexpected. As many times as I've done faux stained glass, I'm always surprised and delighted with what I get. I absolutely love it!
The only thing I have left to do is repaint this gold frame. However I need to find my spray primer first. Ugh. Moving!
Anyway, once I've painted the frame, I'll insert the window and then apply leading all around the inside of the frame to give it a 'finished' look.
For now, it's just sitting on an easel, looking pretty in my window and making me smile.
Are you ready to try painting glass? There are so many fabulous things you can do with glass paint!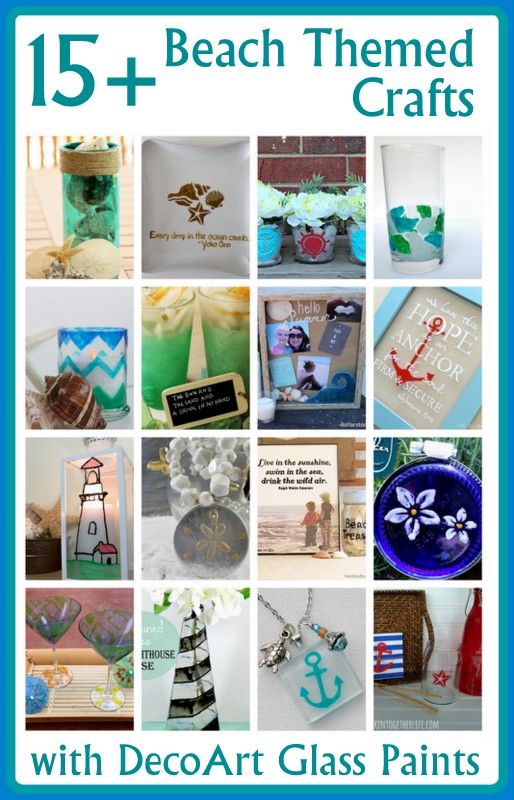 It's easy to find too. Americana Glass Paints are available at Michaels, JoAnn Fabric and Craft Stores, Pat Catan's Craft Centers, A.C. Moore, Beverly's, and other fine craft retailers. For more information on Americana Glass Paints visit http://www.decoart.com/glasspaint
But how would you like to win some DecoArt paint? Like $100 worth!
Check out this HUGE GIVEAWAY!
Enter to win $100 Michael's Giftcard PLUS $100 DecoArt Product!
Not only is DecoArt generously giving a lucky winner $100 worth of product, they're also giving everyone a $5 rebate! Get all of the rebate info here.
Note: Online purchases or sales items are not valid for this rebate offer. This rebate is valid for US consumers only.
Want some more glass painting inspiration? Go visit my blog friends! Every project is created with DecoArt glass paint.
Disclosure: I was furnished the product by DecoArt. All opinions are my own, as always.
Colleen